Pet Photo Cushions & Pillows
Pet Photo Cushions & Pillows
Create your pet photo cushions & pillows with a Keepsakes of Love cushion or pillow by personalising any of these cushion covers with a photo of your beloved pet.
We print your chosen pet photo onto a soft peach skin finish fabric.  We then create your cushion cover with one side being your photo and the other side your chosen cushion colour and fabric from the collections below.
The best gift or way to treasure your beloved pet forever!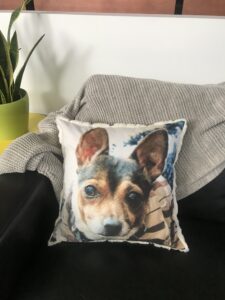 At Keepsakes of Love we offer high quality photo cushions and pillows that are luxurious to the touch and perfect for cuddling. They are stylish.  We have on offer lots of beautiful colours and different fabric options.  We have selected only the best of the best when it comes to our fabrics.
Other businesses will offer you fast delivery.  They will offer you cheaper prices.  There is nothing truer than you get what you pay for.  Don't waste your money on an inferior product.  Do you want something that you will get a kick out of for a few weeks?  Or do you want a Keepsake.  A precious treasured moment that is stylish and will last forever.  Do you want a personalised photo pillowcase that is soft to touch?  Do you want one that is perfect for snuggling?  That is what you get when you purchase from Keepsakes of Love.
**Inserts sold separately at checkout.  Unfortunately we cannot provide inserts for international orders.
Looking for that unique one off gift for someone you love? Personalised gifts are such a special way to show them how much you care, and we guarantee that they will absolutely love this Keepsake. They are so tactile, great quality and will last a lifetime. We will happily include any message you would like to have sent with your Keepsake gift.
We all love and adore our beloved pets and this is such a precious way to treasure them forever. Kisses and cuddles every night with our fur babies xo
Showing all 47 results